I wanna share with you these two interesting recipes on how to cook sweet and sour chicken. This is our dinner tonight and it is really easy to learn. Infact, I wanna try this to fish as alternative to chicken (for a change). I have tried cooking Quick and Easy style...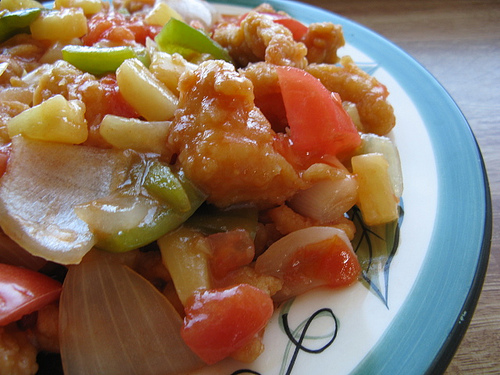 "Quick and Easy" sweet and sour chicken recipe
Ingredients
1lb (450g) of white chicken meat (eg. chicken breast), cut into cubes or strips.
2 onions, sliced into squares
2 green peppers, sliced into squares
1 can of pineapple chunks (or pineapple rings cut into squares)
4 tablespoons of cornstarch
6 tablespoons of sugar
8 tablespoons of vinegar
8 tablespoons of tomato puree (or 12 tablespoons of ketchup)
1 tablespoon soy sauce
1 cup of water
4 tablespoons of light vegetable oil (such as canola oil)
1/2 teaspoon salt
Cooking Directions
1. Heat the pan over medium-high heat. Add salt to the oil once the oil has heated up.
2. Fry the chicken cubes until they are white (but don't over do it; they shouldn't be cooked through)
3. Add the onions and green peppers, and stir-fry for about 3 minutes (or until the green peppers are almost tender).
4. Add the pineapple chunks and cook for about 1 minute (or until the pineapples look cooked)
5. Quickly mix the water, sugar, vinegar, tomate puree and soy sauce together. Then add in the cornstarch and mix thoroughly until you have a paste/slurry.
6. Add this paste/slurry mixture into the pan and stir fry until the sauce thickens.
7. Remove from heat and serve.
Note:
If you prefer a less sweet version, simply add less sugar. Likewise, use less vinegar if you prefer a less sour version. Remember that tomato ketchup is quite sweet, so if you use more ketchup, your dish will become sweeter.
But, you can try also this Chinese Style Sweet and Sour Chicken.
Sweet and Sour Chicken (Chinese Style)
Ingredients:
6 boneless skinless chicken breasts (cut into 1" cubes)
Flour
4 egg yolks
2 Tablespoons soy sauce
Oil
3 firm tomatoes (cut into 1 inch chunks)
2 onions (cut into 1 inch chunks)
1 green pepper (cut into 1 inch chunks)
1 can pineapple chunks (reserve juice for sauce)
Sweet and Sour Sauce-
½ cup vinegar
1/3 cup sugar
½ teaspoon salt
¼ cup orange juice
¼ cup pineapple juice
¼ cup ketchup
2 tablespoons cornstarch
Cooking Instructions:
Step 1: Mix egg yolks and soy sauce with a bit of water. Roll the chicken in flour, egg, and then flour again. Deep fry the chicken in batches for 2-3 minutes, and drain on tissues.
Step 2: Stir fry pepper and onions for about 1 minute so they are still crisp and colored. Remove from pan and set aside.
Step 3: Make sweet and sour sauce by mixing vinegar, sugar, salt, orange juice, pineapple juice, and ketchup. Bring to a boil and simmer for 10 minutes. Mix 2 Tablespoons of cornstarch in 1/8 cup of juice and stir in until thickened.
Step 4: Add tomato and pineapple chunks to the sauce and heat thoroughly. Pour mixture gently over chicken. Pour your peppers and onions on and serve. (best served while chicken bits are crispy and vegetables are crunchy still)